2019.07.07
Bells Racing / SoCal MXTF Qualifying Race Report of Round 4, 2019 All Japan Motocross Championship IA-2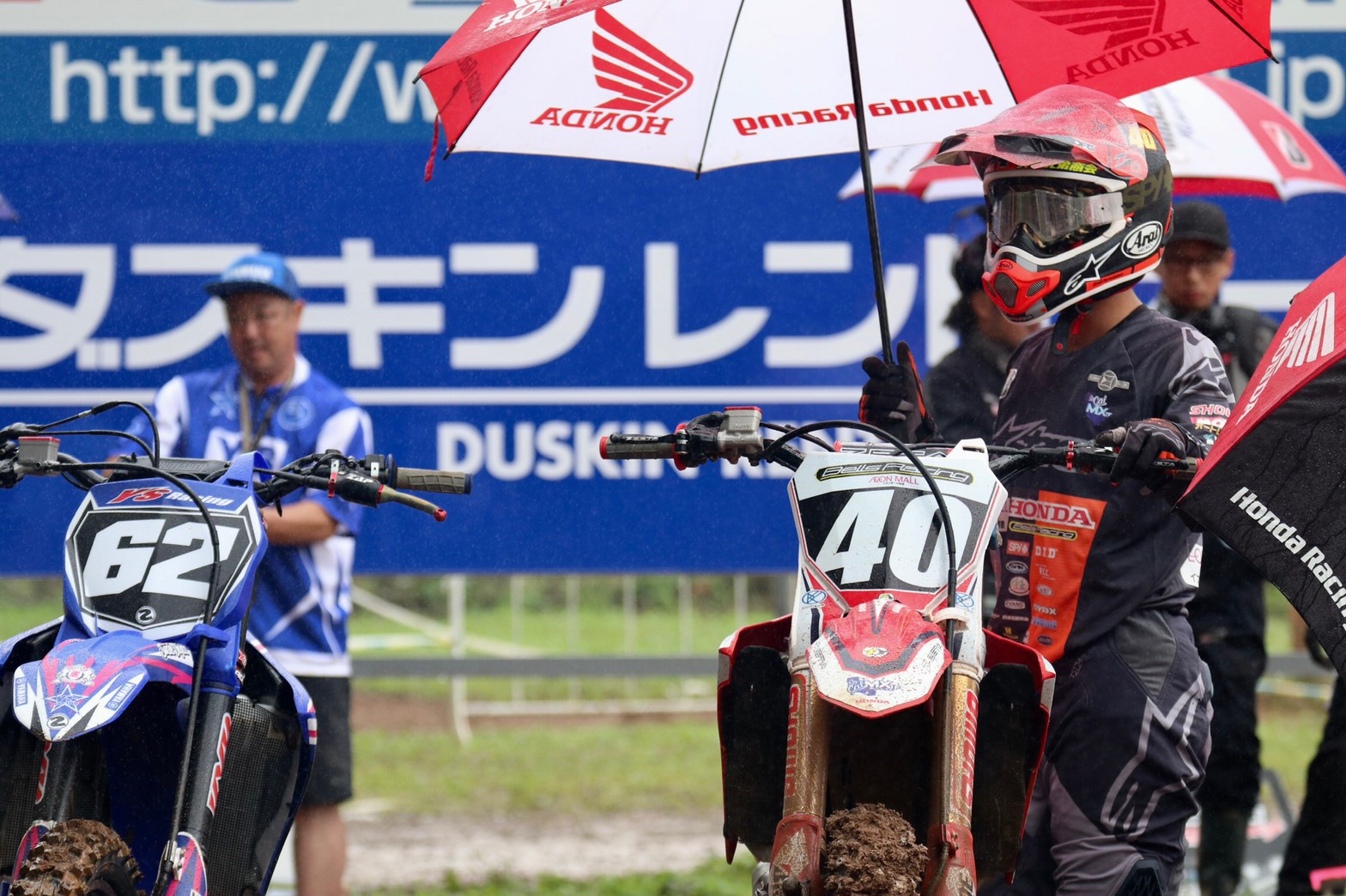 6th July 2019, (Sat.) IA-2 Class Qualifying Race
Kainosuke Oshiro Settles for 4th in Qualifying Race
Aims for Higher Position in Tomorrow's Race
Round 4 of All Japan Motocross Championship is taking place at the Sports Land SUGO in Miyagi Prefecture.
Kainosuke Oshiro's 4th round of the season had begun.
The IA-2 Class Qualifying Race is divided into 2 groups forming Group A and B. Top 15 riders will move on to the finals for tomorrow with a 10 minute + 1 lap race. It is a critical race since this will decide who gets the best starting position for tomorrow's race.
The weather forecast for today was cloudy however, it turned out raining, making the course muddy and the qualifying race began for IA-2 Class. Kainosuke Oshiro was in Group A and had a good start from the beginning sticking with the leaders in 3rd position by the end of first lap. Mid way through the race, he lost a position to 4th however, the 2 riders in front had crashed just before final lap and Oshiro made his way through up to 2nd position.
In the closing stages of the race, Oshiro made an unexpected mistake and was forced to lose 2 positions. As a result, 4th place finish for the young rider.
Just missed out from the top 3 however, Oshiro believes that he had a good pace throughout the race. He will now switch his mind towards the race for tomorrow and aim for a podium or even a victory for tomorrow's race.
Kainosuke Oshiro
"4th position was the best I could do for today. I had a good start and was in 4th in the first turn and made my way through the race. Just before final lap, 2 riders in front of me had crashed and got my way up to second. In the final lap I made an unexpected error and lost 2 positions which was disappointing 4th place finish. I do believe that I had a good pace so I will now switch my mind for the race tomorrow and fix my errors and aim for the top of the podium, if not at least in the podium position. Thank you very much and please look forward for my race tomorrow."
—–
There will be 2 heats held for tomorrow's race.
Heat 1 will start at 9:35 a.m. and heat 2 will start at 13:40 p.m. in the afternoon.
Please check the below link for Live Timing.
http://www.maxbrain-jp.com/users/lap/index.cgi